Today I'm really happy to have Keren from
Free Pretty Things For You
on the Glitter Blog.
She is my #1 go to place when I'm looking for Clip art. I'm really into vintage and Indie stuff so she is right up my alley! My cute little buttons.. they came from
FPTFY
. Stop in and check her out... You will love it! The best part... Everything is FREE and she takes suggestions!!!
Here is a few of my Favorite images....
How cute is this little lady! Downoad
Here
The Worlds Cutest Thank you Card
Here
I'm sure you will see this image around here! I have got to find a use for her!
You can Download it
Here
Thank you Keren for sharing the love with Glitter Readers! The Vintage tea set is Perfect!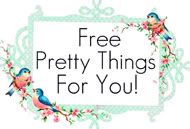 Hello Running with Glitter Fans!
I'm Keren from
Free Pretty Things For You
and I'm so exited and honored to be here with you today!
If your not familiar with FPTFY,
it's prety much a little
bit of everything.
I hosts lots of Pretty Giveaways, Feature Lots
Pretty
When Kelly asked me to create something Springy, the first thing I thought of was a beautiful English Garden Tea Party Collection!
So sweet and Lovely Just for You! :)
Have any request or just wanna say Hi?
Feel free to contact me with your thoughts!
XOXO